Back To Blog
There are expert mechanics for your garage door repair requirements especially for complicated problems such as an off track garage door. However, there are problems that you can take care yourself and here's how.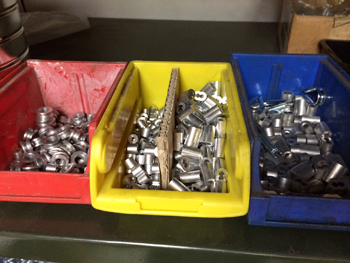 You can easily check and repair yourself
* Check if the metal tracks of your door are tight and working properly. Usually, it only takes some tightening of screws and bolts and straightening of tracks for crimps or small dents. You can use a hammer or a rubber mallet to straighten it out. But if the dent is beyond DIY garage door repair, then call the professionals for replacement of the metal track.
* Metal tracks in your garage should be aligned properly. Expert garage door mechanics know the proper placement and positioning of the tracks, height position, and others. However, if it's just a slight realignment, then you can do it yourself. But if you are not sure, then better call our experts than risk damaging your door instead of fixing it.
* Make sure all bolts and screws are in place and tight. Check the springs too. Mostly, door problems result from loose screws, bolts and hinges, which you can easily check and repair yourself. Sagging of the door, for example, could be repaired by replacing door hinges.
* Regularly clean the tracks. Dirt could build-up in the metal tracks if not cleaned regularly. And it could obstruct the smooth rolling of your garage door in its tracks. So removed hardened dirt could save you door from further damage.
But if the problem is the torsion spring, better to call the experts for your garage door repair. Proper handling of the torsion spring is needed especially if you intend to replace it. Fixing or replacing the spring yourself yet you don't know how to might cause you injury. So better to leave the more complicated repairing to the professionals.